Radeq Lab Sugaring
About Radeqlab
Leading provider of high-quality sugaring products for professionals worldwide
With years of experience in formulating, producing, and supplying finished products, we have established ourselves as an industry authority in the world of Sugaring.
Industry Authority
With years of experience, we specialise in formulating, producing, and supplying finished products for Sugaring professionals worldwide.
Innovative Technology
Our company is the creator of the Inuflex Technology™ sugar paste production technology, offering skin-friendly and efficient hair removal solutions.
High Volume Production
Our daily production capacity can reach up to 1,200 kg of sugar paste, ensuring timely delivery to our customers.
Expert Training
Our trainers have been teaching the art of Sugaring since 2009, and hundreds of sugarists worldwide have benefited from our expertise.
At Radeq Lab B.V
we are passionate about providing top-quality hair removal solutions that leave our customers feeling confident and satisfied. With years of expertise in sugaring, our team has developed a range of natural cosmetics that are not only effective, but also safe and gentle on your skin.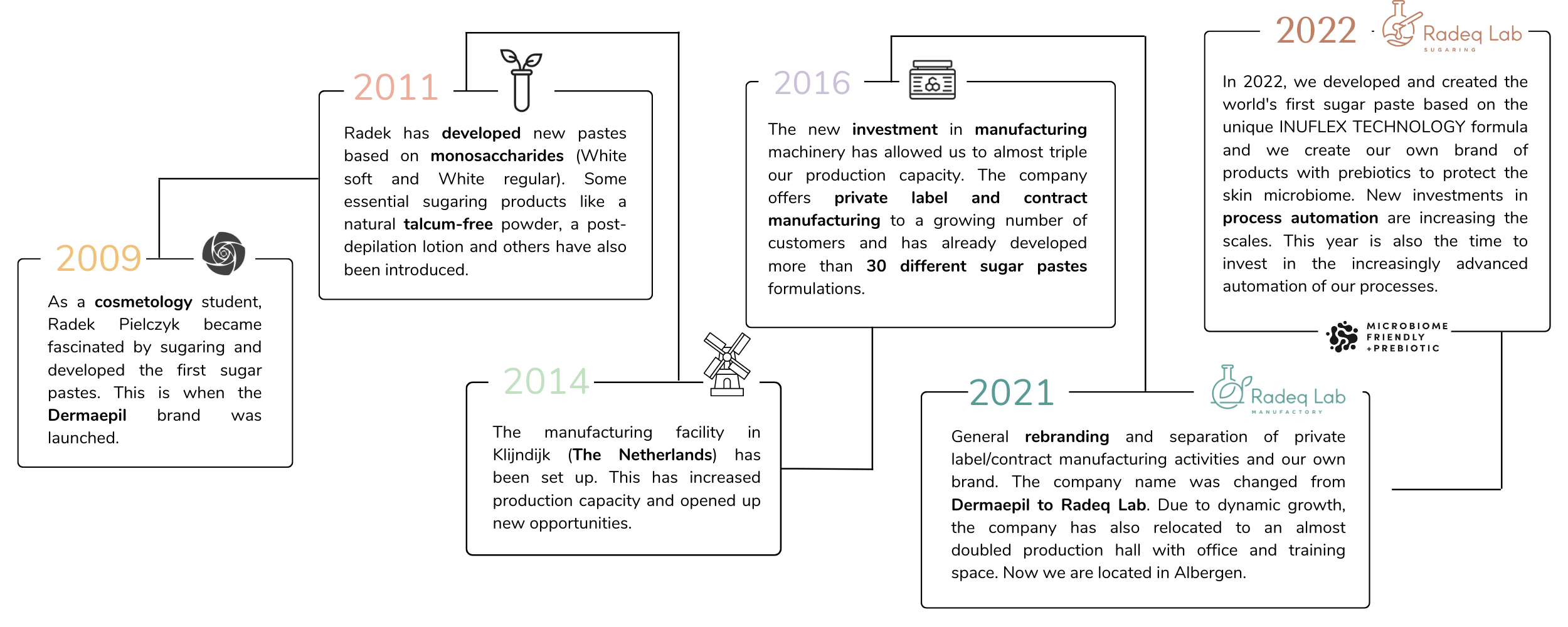 Radeq Lab
Crafting Quality Sugar Pastes since 2009
How it started...
We take pride in our company's history...which dates back to 2009 when our founder Radek Pielczyk created his first sugar pastes while studying cosmetology in Poland. Today, we have grown considerably, expanding our production line and moving our headquarters to a larger facility in Albergen, Netherlands. Our success is a testament to the quality of our products and our commitment to customer satisfaction.
In 2022, we launched an innovative sugar paste based on prebiotics that has revolutionized the sugaring process. We are now proud to ship our products not only throughout Europe, but also to Asia and North America.